Home Page
Contact Us
Diesel Tank Features
Diesel Tank Prices
Ordering
On-site Refuelling tanks
Fuel Transfer Tanks
Diesel Storage Tanks
DEF AdBlue tanks
Diesel Tanks
On Special
Information Brochure
Refueling Trailers
Rules for Storing Diesel
Transporting Diesel
What is AdBlue DEF?
Diesel Fuel Rebate
About Us

There is an alternative to jerry cans.
You could buy, and have fitted, an expensive undertray long range fuel tank, or
you could get this 100Litre multi-use, lockable, and portable diesel fuel tank.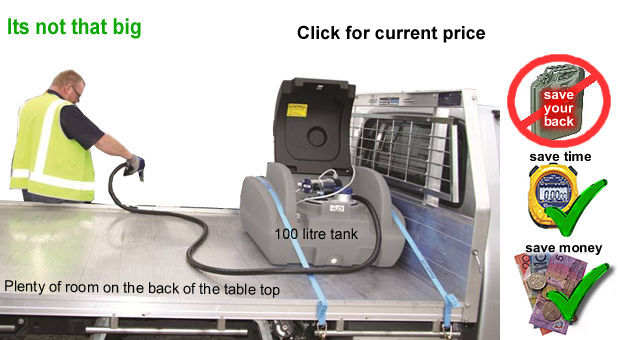 An extra 100 Litres of diesel that you can pump yourself, from your own auxiliary diesel fuel tank. Fill another vehicle, machinery, tractor, or generator. (Note: not suitable for petrol)
Lots of uses when you've finished your big trip.
When diesel rises up an extra $1 a litre in remote areas, our 100L diesel tank can save you money.
Long night trips are now possible because you don't have to worry if the fuel station is open.
Refuel where its cheap and drive past expensive locations.
Peace of mind that there's plenty of fuel for the trip.
No dirt in your tank or fuel lines from old jerry cans.
Can be ordered with mounting nuts in the base so it can be screwed down from underneath.
No more long trips? Sell it. With the savings you've made you'll probably come out in front.
A fitted long range tank rarely adds value, you effectively give it away when you sell your 4WD
Made and moulded in Australia. Strong & reliable. Diesel-grade poly.
Upgrade to 200 Litres just $90 more (ex GST) - same footprint

FREE Freight to most areas